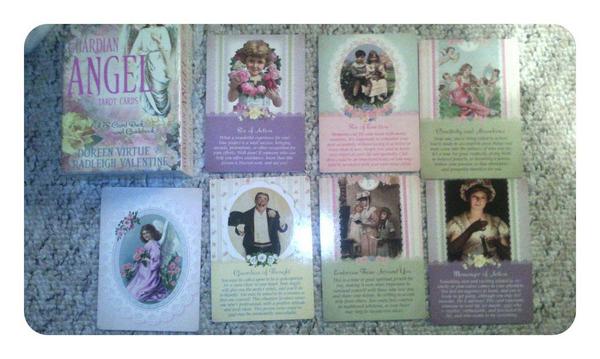 Guardian Angel Tarot Cards by Doreen Virtue & Radleigh Valentine
Published by Hay House UK
RRP: £ 15.99
My Rating: 5/5
The Low Down:
The World's Gentlest and Sweetest Tarot Cards
After the successful launch of their bestselling Angel Tarot Cards, Doreen Virtue and Radleigh Valentine knew that some people were still wary of tarot.
So they created this 78-card deck and accompanying guidebook for highly sensitive people who desire the accurate and detailed answers of tarot cards, along with gentle words and images.
Even sweeter than their other decks, you'll find the Guardian Angel Tarot Cards a comforting and safe way to get clear answers for yourself and others.
My Opinion:
I have been looking forward to these sweet cards for a long time now so when they arrived I was beyond happy. They are very pretty, and very in keeping with a shabby chic home interior – seriously when I saw these I thought they would make perfect design pieces around the home as artwork.
Not at all like regular tarot cards, yet so much more than just oracle cards these are the happy medium for angel fans, tarot users, and metaphysical practitioners.
Unlike a regular tarot deck that features the likes of The Tower, The Fool, The Moon, The World etc, we have Letting Go, A New Beginning, Intuition and Insight ,Successful Completion for the Major Arcana.
The Minor Arcana has the following for suits;
Water – Emotions
Air – Thoughts
Fire – Action
Earth – Abundance
I love how these suits for the minor arcana fit perfectly with the simplicity that using the tarot has been for all my life. In fact I love how very uncomplicated these cards are, and rather than using them for clients, I have to say I would keep these as a personal use only deck, not because they wouldn't be useful to clients, but because sometimes you have to put yourself first and embrace self care.
I cannot fault this deck at all. After a few hic-cups with recent decks that I've reviewed of Doreen's I have to say that these cards are what put her back at doing what she does best, I just wish that at some point she'd assert her independence a bit more like she did in earlier days when her books, oracle cards etc are simply all her own work and not a collaboration.